Partnering Against Corruption Initiative
319 FOUNDATION
Third-Party Risk Assessment & Due Diligence
A foundation for third-party compliance excellence – helping companies manage their external relationships and abide by the guidance set forth by the United States Department of Justice
Integrated Risk Assessment, WorldCheck Screening, Enhanced Due Diligence & Management Reports
319 Foundation is an expertly defined third-party risk assessment and due diligence automation solution. It comes complete with an out-of-the-box business process that has been defined by leading third-party compliance experts.
It is designed to empower any organization to be fully operational it the use of the system in 4 weeks or less. The solution enables each organization to personalize the system to fit their exact needs.
319 Foundation allows for unparalleled expansion to grow beyond the predefined process and extension to automate additional compliance needs as they arise, which addresses the guidance also set forth by the U.S. Department of Justice for corporate compliance programs.
What is the genesis of 319 Foundation?
Rooted in the guidance set forth from the Partnering Against Corruption Initiative (PACI)
The World Economic Forum's Partnering Against Corruption Initiative (PACI) launched a working group charged with developing Good Practice Guidelines on Conducting Third-Party Due Diligence
In light of recent uptick in regulatory and enforcement activity, organizations are devoting more and more resources to establishing policies, infrastructure and processes aimed at fighting corruption within their own businesses and throughout their supply chains. An area of special attention has been the prevention of indirect corruption (i.e. through third parties), which is explicitly prohibited by the United Nations Convention against Corruption, the OECD Anti-Bribery Convention and the national legislations of their signatory countries.
The guidelines are aimed at helping organizations mitigate the risk of becoming involved in corruption through third parties
A formal round of consultation involved key subject matter experts and partners, including the OECD, the United Nations Office on Drugs and Crime (UNODC), the UN Global Compact, Transparency International and the International Chamber of Commerce (ICC)
319 Foundation Highlights:
319 Foundation is expertly designed to allow a company to automate third-party due diligence in less than 4 weeks with a pre-configured Internal Assessment, Third-Party Questionnaire (which is an exact replica of the PACI external questionnaire), Internal Review, and Risk Matrix
It is designed to allow for customization to risk scoring and third-party questionnaires to best fit your corporate compliance objectives and requirements
319 Foundation is fully integrated with Refinitiv's WorldCheck database, which covers:
Politically exposed persons (PEP), close associates, and family members
State owned entities and state invested enterprises
Global sanctions lists
Narrative sanctions (sanctions ownership information)
Global regulatory and law enforcement lists
Negative media
Iran economic interest (IEI)
US SAM
More…
Unlike any other system, 319 Foundation can use the results of a WorldCheck screen to automate risk scoring, in-line decision making, contact & company classification, continuous monitoring and more
Screening is done directly within 319 Foundation – there is never a "swivel-chair" need to switch back and forth between systems
It also is fully integrated with Refinitiv's Enhanced Due Diligence IntegraScreen management platform which allows in-line automation of EDD report ordering, tracking, and management
Foundation for Third-Party Compliance Excellence based on DOJ Mandate: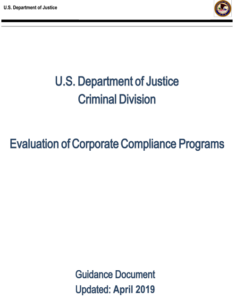 In April 2019, the United States Department of Justice ("DOJ") published a report outlining guidance and best practices for corporate compliance programs. In this report, they share key information about how prosecutors evaluate programs when a possible violation may have occurred.
The guidance highlights five key aspects that underscore the need for third-party compliance automation:
Risk-Based and Integrated Processes
Appropriate Controls
Real Actions and Consequences
Is the Corporation's Compliance Program Being Implemented Effectively?
Continuous Improvement, Periodic Testing, and Review
It is a must that your third-party due diligence process evolves over time, and consequently it is a must that your system can support those changes inline and without interruption of your business. 319 InSight is the only platform with the power and flexibility to handle these requirements.
Importantly, Platform319 allows for rapid and painless extension of the Foundation third-party compliance process and expansion into other employee-based compliance applications.
The 319 Foundation Third-Party Risk Assessment & Due Diligence Solution cannot be matched in its functionality, flexibility, customization, security, expandability, and total cost of ownership over time.
Gain Important Advantages with 319 Foundation:
Defined by World Experts – Proven and unbiased in their guidance assuring the highest level of expertise
Personalization to Match Your Unique Needs – No two corporations have an identical set of third-party compliance needs; thus, personalization is critical to enable the system to best represent your policies – and this personalization finds itself into all areas of the system including questionnaires, risk scoring, portal content, e-mail notifications, reports, and more
Shortest Cycle Times – Unmatched process automation, including "Refinitiv on the Inside" – which reduces the amount of remediation by unparalleled factors; the system brings the appropriate users into the process at the exact moment that they are needed and holds them accountable to fulfill their requirements
Minimal Implementation & User Adoption Time – The system can be fully launched in only 4 weeks; and our global users attest to the ease of use of the system with little to no training required
Highest Levels of Security – Our Cloud within Amazon's Web Services was one of the first ever; and as an early adopter we have the highest levels of security and performance. At every level within the architecture of the platform our system possesses advanced security logic to handle even the most stringent requirements. Our Platform is subject to continual external audits from major corporations which always assures its security it kept to the highest global standards.
Lowest Cost of Ownership – Over the term of its use, Platform319 provides the lowest cost of ownership due to its superior automation, significant reduction in administrative requirements, and ongoing capability to grow with the requirements of your enterprise
319 Foundation Third-Party Risk Assessment & Due Diligence
Fastest Possible
Cycle Times & Approvals
Precision with all Data
Assembly & Analysis
Agility to Support
Changing Regulations
Compliance business processes are unique to each organization
No two companies have an identical business process. As a result, other systems that are "out-of-the-box" will fail your organization. It is a must that your compliance systems are able to embed your company's unique policies and mandates within the applications they serve.
Policies are different across companies for lots of reasons, including the sectors and industries in which they operate, the locations they operate within, the regulations that apply to their business, the risk appetite of the organization, and much more. In the World Economic Forum's report "Partnering Against Corruption Initiative (PACI)" it is explained:
"It is important to note that no one-size-fits-all solution exists for an effective [due diligence] process. Business activities are conducted through a variety of legal structures, including subsidiaries, joint ventures, contracting and subcontracting."
"Not all business relationships pose the same corruption risks. An organization should therefore tailor its due diligence procedures to its individual circumstances (i.e. its size, resources and risk profile) and to the specific risks in the business relationship at stake (i.e. the identity and reputation of the [subject] and the scope of the services to be performed)."
319 InSight's technology has been engineered from the ground-up to be fully reconfigurable, therefore enabling the exact specifications required to match your company's unique policies.